by Mary E. Lowd
An excerpt from Otters In Space 3: Octopus Ascending.  If you'd prefer, you can start with Chapter 1 or return to the previous chapter.

---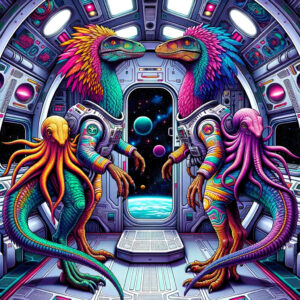 Emily's world had ended before.
A prismatic kaleidoscope of lives had hung around her.  Strings of seed pearls; each pearl an entire life waiting to unfold; an entire life she had created.
Before Emily had laid her eggs, she'd been a chef like she was now.  That was her first life.  And she'd shed it entirely, like a snake's old skin, when she'd felt the urge to lay her eggs.  She'd retreated to a nursery cave — like the ones in Choir's Deep, except Emily had lived in a much smaller octopus city, much deeper in the ocean.  Their ways were different.  More ceremonial, less metropolitan.  More bound by tradition, but it was a tradition Choir's Deep octopi scorned. Continue reading "Otters In Space 3 – Chapter 30: Emily"