---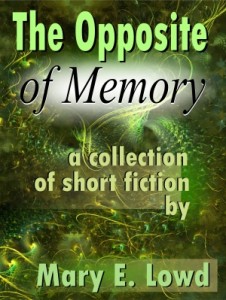 Can losing your memories make you stronger?  Can it be a form of recreation?  What happens when the difference between memory and reality becomes blurred?
From hard science fiction to space opera with a taste of the surreal along the way, this anthology explores the intersection of memory, technology, identity, and reality.
Forget Me Not — Can a bad memory be the secret to success?    [~2,600 words]

The Screen Savior — What happens when a screen saver comes to life…    [~1,400 words]

The Most Complicated Avatar — A woman can't find her 10-year-old daughter in real life…  But, maybe, she can find her online.    [~1,300 words]
A Second Enchanted Evening — Bomani convinces his wife to join him in using memory drugs to make their anniversary more romantic; instead, the drugs force them to face the true state of their relationship.      [~6,800 words]

"Viewers Like You" — In the future, androids will pay you to watch TV.    [~1,800 words]

We Can Remember It For You Retail — What happens when memory, technology, love, and digital rights intersect.    [~3,600 words]

The Opposite of Suicide — Dennis discovers the fragile, fractile nature of his life.    [~1,500 words]

Meet Archive — A story-teller gets lost in his own stories.    [~2,400 words]

My Fair Robot — A patron at the All Alien Cafe tells a tall tale of the pitfalls in looking for true love by constructing it.    [~1000 words]

Harvesting Wishes — Where do wishes come from?  Dandelions?  Genies?  … Or asteroids?    [~1,800 words]

---
If you would rather read these stories in an e-book or paperback, both forms are available on Amazon.