A COLLECTION OF UNFORGETTABLE FICTION
---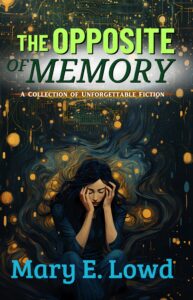 Can losing your memories make you stronger?  Can it be a form of recreation?  What happens when the difference between memory and reality becomes blurred?
From hard science fiction to space opera with a taste of the surreal along the way, this anthology explores the intersection of memory, technology, identity, and reality.
Forget Me Not — Can a bad memory be the secret to success?    [~2,600 words]

The Screen Savior — What happens when a screen saver comes to life…    [~1,400 words]

The Most Complicated Avatar — A woman can't find her 10-year-old daughter in real life…  But, maybe, she can find her online.    [~1,300 words]
A Second Enchanted Evening — Bomani convinces his wife to join him in using memory drugs to make their anniversary more romantic; instead, the drugs force them to face the true state of their relationship.      [~6,800 words]

"Viewers Like You" — In the future, androids will pay you to watch TV.    [~1,800 words]

We Can Remember It For You Retail — What happens when memory, technology, love, and digital rights intersect.    [~3,600 words]

The Opposite of Suicide — Dennis discovers the fragile, fractile nature of his life.    [~1,500 words]

Small Smooth Pebble (COMING SOON!) — The ultimate choice is always at her fingertips.    [~100 words]

On the Eve of the Apocalypse — A letter written as the world ends.    [~700 words]
My Magic, My Spell — An ice mage reflects on the spell that was stolen from her.    [~1,800 words]

Anger is a Porcupine, Sadness is a Fish — A woman returns to her village to find herself beset by another's spells.    [~900 words]

Returning the Lyre (COMING SOON!) — What if the snake had bitten Orpheus instead of Eurydice?    [~2,500 words]
The Fish Kite (COMING SOON!) — Joan is visited by a forgetful figure from her past.    [~2,000 words]
Memory Sprites — A camping trip full of memories.    [~700 words]
Crystal and Rainbow — Musings on the power of an accurate metaphor.    [~500 words]
Necessary as a Rose — Alone on a spaceship with nothing for company but a rose.    [~X00 words]
Flowers Want to Be Free — When concrete covers the world, a single dandelion becomes a marvel.    [~1,300 words]
Techno Babel (COMING SOON!)  — A parking garage arm gains sentience.    [~2,300 words]
The City In Your Toaster Oven — An artist makes a difficult and dangerous climb in hopes of creating an artwork so magnificent it will speak to the god of her world.    [~800 words]
The Hand-Havers — At the tender age of one-hand, Delundia falls for a wise old six-handed bachelor.    [~4,700 words]
Foreknowledge — Before she's even born, Amanda's death is predicted.    [~4,200 words]
Heaven is the Best Moment of Your Life, Infinitely Remixed and Played on Loop (COMING SOON!) — A woman learns something surprising about her memories while having a personalized heaven designed for her.    [~3,000 words]
Two Roads Diverge (COMING SOON!) — A woman consults visions in a hypercrystal to decide whether she wants to have a child or not.    [~900 words]
Where Have All the Mousies Gone — A mouse brings her grandmother back after ten years, for one last moment.    [~1,000 words]
Meet Archive — A story-teller gets lost in his own stories.    [~2,400 words]
---
If you would rather read these stories in an e-book or paperback, both forms will be available on February 29th, 2024 (Leap Day)!