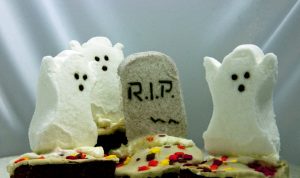 This year, Furry Book Month crept up and surprised us, so we didn't have anything prepared.  However, now that we're down to the last day — which is also Halloween! — we have two new furry stories to present, and since one is about a haunted cafe and the other about a werewolf in space, we've packaged them up with two new ghost stories to create a spooky Halloween issue!
First up, we'd like you to meet Sunny, a hungry yellow Labrador who simply wants a snack but finds herself faced with a cafe full of spectres in…
Next up, a friendly feline ghost goes missing, and a camping trip takes a turn down memory lane.
Then, finally, Rainal the werewolf is running low on her supply of moon dust and needs to find more…
If you need to find more sweet, spooky stories, we recommend checking out Shreddy and the Zomb-dogs from our archives, and if you keep poking around, who knows what other treats you might find!