by Mary E. Lowd
Originally published in Queer Sci Fi's Innovation, August 2020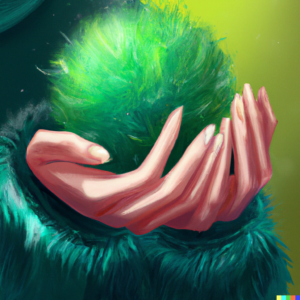 "What's the catch?" I ask, watching her pet the silky soft fuzzball cupped in one palm.  It's green like the inside of a kiwi fruit, and about the same size.
"What do you mean?"  She lowers her head, touches her brow to the curve of the fuzzball's… back?  I can't tell what kind of anatomy it has.  The thing doesn't seem to have a head or face or eyes or mouth… anything recognizable. But it does purr. A soft cooing sound that soothes a troubled soul.
"There's always a catch," I say.  "It reproduces too fast or turns into a monster with big teeth if you feed it after midnight."
She shakes her head at me. Amused. Dismissive.
"Or it's sucking up your blood through its fur," I continue. She just laughs. "Maybe it's going to transform into a copy of you during the night and replace you."
"Would you like to pet it?" she asks.
I reach out and touch the soft fur with my fingertips. I feel something in my chest loosen, untangle; a knot that had been choking me up ever since I came out as ace and Cal dumped me.  "I've seen enough movies to know something this… cute… perfect… it has to have a catch.  This is the way the world ends: not with a bang but with a purr?"
"No catch." She picks up another one, a smaller one, out of the cardboard box beside her. "They're technically plants. Just water it and make sure it gets enough sunlight."  She holds it out to me. This one has fur the pale shade of a creamy key lime pie. "Would you like one?"
"Yes, please."  I take the soft, warm creature in my hands, and suddenly I feel a whole lot better.