by Mary E. Lowd
An excerpt from Otters In Space 3: Octopus Ascending.  If you'd prefer, you can start with Chapter 1, return to the previous chapter, or skip ahead.

---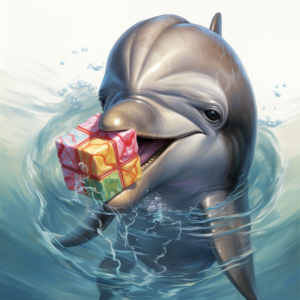 Except, Kipper wasn't talking to octopuses.  Kipper, Trugger, and Captain Cod had been shut in a small room with several feet of air at the ceiling and a ledge around the edges.  Sitting on the ledge felt like sitting at the edge of a public swimming pool, reminding her of cattery days when over-enthusiastic dogs had required all the reluctant kittens to take swimming lessons.  Except this was more claustrophobic due to the low ceiling and near walls.
After an hour or so, they'd taken their breathing gear off.  The air smelled strongly of salt and felt heavy with humidity in Kipper's lungs.  Every sound echoed, and the ceiling would not stop dripping.  Moisture clung to the smooth, curved, abalone-like walls, and the movement of the water cast weird, fluttering reflections of the glowing light that came from panels in the ceiling.  Kipper hated it.
Trugger and Captain Cod were having the time of their lives.
The octopuses hadn't come back through the sealed hatch in the underwater floor, but occasionally they sent in a dolphin with a puzzle for them.  Kipper wondered if the dolphins had been genetically engineered in any way, or even uplifted, but she couldn't tell from their minimal interactions as they delivered the puzzles.  Dolphins had always been a naturally smart species anyway.  At least, as Kipper understood it.  But Kipper had misunderstood a lot of things.
The puzzles ranged widely in style — geometrically locked boxes, computer pads with recurring patterns that looked like abstract video games, a speaker that played whale songs until Trugger and Captain Cod sang along in harmony.
Trugger believed the octopi were thoughtfully providing entertainment for their guests.  Captain Cod thought the octopi were testing them, and solving all the puzzles, passing all the tests would prove them worthy; only then would the octopi let them out.
Kipper thought it was all a waste of time.  Whatever the octopi were doing, she wanted no part of it.  So she sat on the ledge, fur plastered to her body from humidity and the carelessly-splashy dolphins.  Her ears flattened yet were unable to block out the echoes.
Continue on to Chapter 19…