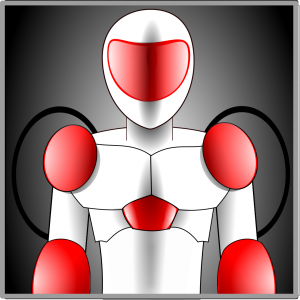 I've been seeing  a lot of interest in my robot stories, ever since "The Three Laws of Social Robotics" came out in Analog.  So this page is a guide to where readers can find more of my stories about Maradia's robots.
My Fair Robot — A patron at the All Alien Cafe tells a tall tale of the pitfalls in looking for true love by constructing it.    [~1000 words]

Meet Archive — A story-teller gets lost in his own stories.    [~2,400 words]

Xeno-Nativity — Maradia considers branching out from robot-design to a new form of nurturing.    [~5,000 words]
Welcome to the Arboretum, Little Robot — Chirri's robot is malfunctioning.      [~500 words]
If you enjoyed those and want more, Looking For Sentience, just came out in Luna Station Quarterly, and there's a series of six stories about Maradia's robots slated to come out from Daily Science Fiction any time!  (There's also a whole novel… but it's still looking for a good home.)
Until then, if you're curious about the concept of xeno-nativity, check out The Pink Agate and The Oldest One on Daily Science Fiction, or if you'd like another story about Chirri's encounters with robots, you can read Of Cakes and Robots at Theme of Absence.  Also, there's a ton of my other science-fiction all over this site.  So, feel free to explore!
UPDATE:  Daily Science Fiction has begun releasing my series, Maradia's Robot Emporium, so you can now also read —  The Words in Frosting, Clever Hansel 2000, The Emperor's New Bird, Salvador Dali Smile, and The Fisherman's Robot.