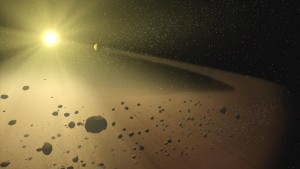 Today's stories take us away from the safe hearth of Wespirtech and forge out into the surrounding universe.  Get a taste for what life is like on the frontiers where Wespirtech is mostly a legend… until the effects of their scientific discoveries trickle outward.
Rhea runs a traveling carnival act, bringing her three Starwhals from system to system to delight the colonists, but when they visit the new sun garden on Hegula Hephaesta, developments at Wespirtech threaten their freedom and their lives.  Of Behemoths and Bureaucrats has never been available to read for free before; hopefully its release here will bring this beautiful story to many new readers.
For a humorous followup, read about a blowhard who gets drawn into a race against a bizarre alien through an asteroid belt.  Daisy Chaining was inspired by the great car songs of the sixties like "Beep Beep (The Little Nash Rambler)" by The Playmates and soooooooo many wonderful Beach Boys' songs.  If you'd rather listen to an audio version of Daisy Chaining, there's a delightful one from Untied Shoelaces of the Mind.
However, be sure to come back tomorrow for another new-to-the-internet story as well as one that's available for the first time in several years! Also, if you missed the stories from the first two days of our launch event, they're still available here.