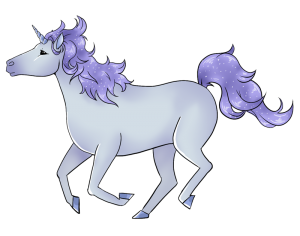 Apparently, today is Unicorn Day.  So here's a fresh hot cup of unicorn stories, newly available here at Deep Sky Anchor:
Hot Chocolate for the Unicorn — The Dragon and Unicorn come calling.    [~1,000 words]
Feral Unicorn — Janie's in over her head when her pet unicorn's horn comes in, and he starts working mischievous magic around the house.       [~4,800 words]
And if you need some more, we do have a few stories that have been rattling around the site a bit longer:
Cyclops on Safari — A normal day on safari, in a different world.    [~800 words]
The Carousel of Spirits — When Artie finds a ghost haunting his carousel, it's time for him to build a new horse.     [~3,700 words]
Enjoy!
And Happy Unicorn Day!