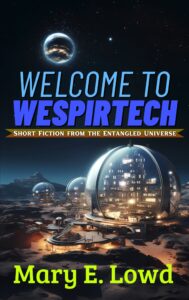 A book twenty years in the making…
Back in 2003, Mary E. Lowd began writing short stories set in the Entangled Universe, many of them centered on an elite science institute on a desolate moon — WESPIRTECH!
A decade later, a bunch of the Wespirtech stories were collected together in Welcome to Wespirtech, but the story told by that collection was always incomplete.  Two of the most important stories about Wespirtech — "Breathing the Air at Wespirtech" and "Lunar Cavity" — hadn't been written yet.
So, now, on the twentieth anniversary of Mary E. Lowd beginning to write this collection, we're honored to finally release the full story.  For the first time, you can finally read Welcome to Wespirtech as it was always intended to be read:
Please, check it out, and if you like, we'd love to see you post a review!