by Mary E. Lowd
Originally published in Untied Shoelaces of the Mind, Issue #9, May 2014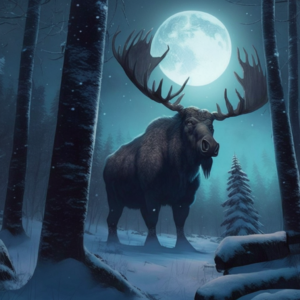 A shadow of antlers stretched ominously over the snow.  Darkfoot crouched behind a fallen log.  White flakes tickled his muzzle, but he dared not shake them off.  With its long legs, the moose could easily outrun a young wolf like him.  Or kick him in the skull.
If Darkfoot downed a moose alone, though, then his pack would never mock him again.
Giant hooves clomped into view.  Legs like four-year-old elm trees bent and passed before him.  Darkfoot sprang at the moose from behind, aiming for its massive neck.  The moose turned, and its brown-furred head, nearly the size of Darkfoot's whole body, swung at him.  Knocked him from the air.  Destroyed his plans to prove himself.
Whimpering on the snow-covered ground, Darkfoot expected the moose's giant hooves to trample him.  Instead, he felt the dull, stabbing pain of a leaf-eater's teeth on his flank.  Panicked, pained, and confused, Darkfoot lost consciousness.
* * *
He awoke covered in snow, under the dull glow of the winter moon.  His pack mates nosed him gently, rousing him to get up.  He could see the laughter in their eyes.  He'd taken on a full grown moose and lost.  He'd taken on a moose alone.  He was a fool like they'd always thought he was.
Darkfoot tried his paws and found they held his weight, though his side throbbed in pain.  A crescent of tooth marks marred his flank, angry with blood.  He licked his fur clean.  Then, dejected and limping, Darkfoot followed his pack mates home.
* * *
Night after night, Darkfoot stayed home to heal while his friends, his brothers and sisters, went on the hunt.  The pain in his flank ebbed, but the crescent scar remained.  It marked him as separate from the others, a badge of his lunacy.
As the winter moon waned, Darkfoot grew increasingly solitary and strange.  His pack mates brought back food for him from their kills, but he barely ate.
On the night of the new moon, his pack downed a moose.  The flesh tasted wrong on his tongue.  The flavor lingered like guilt over a broken taboo.  From that day on, Darkfoot wouldn't eat meat at all.  Instead, he munched on the winter berries down by the river and, stranger still, gnawed on the twiggy branches of young oak trees and the fallen needles of pine.  His pack thought he would surely starve.
Darkfoot, however, felt a new strength growing inside him and found new comfort in his solitude.  His legs felt long and powerful; his shoulders broad and heavy; and a sense of majesty filled him at the slightest turning of his head.  His pack saw a mangy, sickly wolf.  Darkfoot knew better.  Darkfoot saw the shadow of what he was becoming stretched across the snow before him.
Darkfoot saw the shadow of antlers.