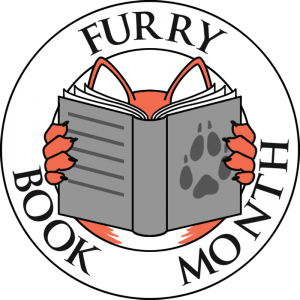 October is Furry Book Month!  And that means lots of deals for cheap or free furry books!
The Furry Writers' Guild has joined forces with many furry authors and publishers — including our own Mary E. Lowd — to put together a special list of deals.
However, Deep Sky Anchor will be honoring Furry Book Month in its own way, by bringing you a furry story each week, as well as a few special deals of our own!
This week, we'd like to bring you a very sweet story called, "A Real Stand-Up Guy," about a pug dog comedian, loosely inspired by Stephen Colbert.  After you read it, if you want to know more about what happens to the characters, then you should head over to Smashwords and use the code "UK74P " for a free copy of the Ursa Major Award-winning When a Cat Loves a Dog.