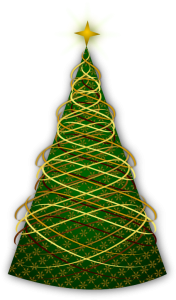 Our first year has been a long, dark year, but we published a lot of stories — 45 so far.  We even got a call-out from a story in Daily Science Fiction:  the story notes for The Empty Empire explain that it was inspired by Deep Sky Anchor, and it sent a few visitors our way.  (Welcome!  We loved getting your comments!)
In this dark December, we could all use a little brightness and cheer, so our present to you is a classic Christmas ghost story about that lovable, curmudgeonly, feline Scrooge — Shreddy and the Christmas Ghost.
We have big plans for next year:  we're hoping to start publishing weekly pieces of original flash fiction — mostly furry space opera stories set in the Wespirtech Universe.  We also have another installment of Tri-Galactic Trek on the way.  So, be sure to come back!  And if you want to give us a Christmas present, share Deep Sky Anchor with your friends and family.  We'd love to start gathering more readers!
Happy holidays to you all!  And merry Christmas from Deep Sky Anchor!