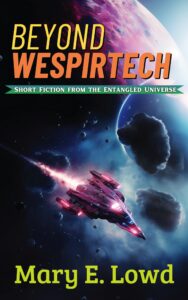 Last month, we released the 2nd edition of Mary E. Lowd's iconic short story collection, Welcome to Wespirtech, and now, we're proud to announce the release of its companion collection, Beyond Wespirtech!
Like the previous collection, Beyond Wespirtech's 2nd edition includes a new introduction, new stories, and a shiny new cover.  In fact, two of the new stories — "Summers on Sylverra" and "The Girl Who Could Hear the Stars Sing" — are exclusive to Beyond Wespirtech and have never been published before!
In this collection, you can learn more about the exciting, sparkling galaxy all around Wespirtech…
Please, check it out, and if you like, we'd love to see you post a review!