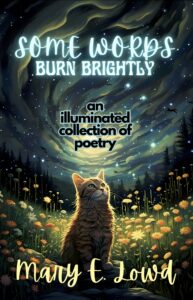 An Illuminated Collection of Poetry
Learn the secrets of the roses, witness the companionship of two daffodils, lose your soul in a feline gaze, and ride away on a fairy steed, into a sunset or an eclipse. Find all this and more in these 81 illustrated poems by Mary E. Lowd. A delightful read for poetry and nature lovers of all ages.
You can order a physical copy here.
Part I: Nature
Part II: Cats
Part III: Dogs
Part IV: Animals
Part V: Birds
Part VI: Whimsy
Part VII: Thoughts